Q1 2022 Edition
With data from 335 services in 20 European cities and insights on fleets and ridership!
European Shared Mobility Index
Benchmark report for
Normal service resumed

!

Once again, shared mobility rebounds from a cold winter. It seems that many industry players wanted to kick 2022 off with a bang; a flurry of operators celebrated the new year by
launching other modes in their existing cities of operation - notably electric bikes. Over 13,000 new free-floating bikes have taken to the streets since December.
In the first edition of 2022, fluctuo is bringing 4 new cities into the fray. Copenhagen has been on the radar for a while, and with the return of scooters to the Danish capital, now it was the time to do a deep dive.


The European Shared Mobility Index by fluctuo offers a comprehensive snapshot of an industry that is redefining urban transport. Focusing on 16 diverse European cities, it provides an in-depth analysis of shared bike, scooter, moped, and car sharing services. This is the third in a series of quarterly reports that benchmarks industry activity, market trends, and performance metrics across Europe's shared mobility sector.

Note: No INVERS customer data was used within this report. The data collected was solely provided by fluctuo.
user numbers by form factor

vehicles per 10,000 inhabitants

regional user numbers as well as their development over the months

detailed insights on shared mobility offerings in 4 selected cities

most important industry trends and news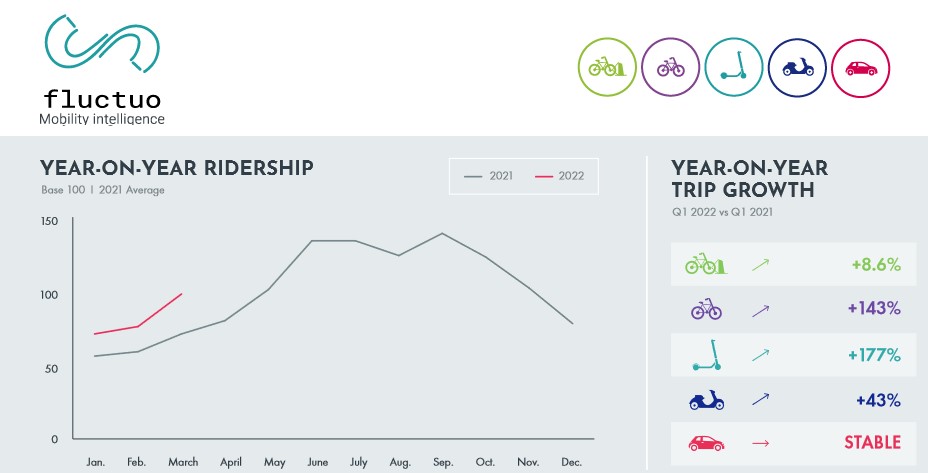 fluctuo is Europe's leading aggregator of data on shared mobility services (bikes, scooters, mopeds, cars). We combine innovative data collection methods, sophisticated algorithms, and a team of mobility experts to produce the most exhaustive accurate data possible.
The European Shared Mobility Index is one of the analytical reports fluctuo publishes.

INVERS, inventor of automated vehicle sharing, enables mobility service providers to launch, operate and scale their offerings with the first and market-leading shared mobility operating system. As the world's first shared mobility technology company, INVERS has the longest experience in the market and acts as an independent and reliable partner for operators of shared mobility solutions such as car sharing, scooter sharing, ride pooling and car rental.