Q3 2022 Edition
With data from 406 services in 33 European cities and insights on fleets and ridership!
European Shared Mobility Index
Benchmark report for
Full speed ahead!
This summer, soaring energy prices and scorching temperatures did their best to derail the progress made by mobility companies. It wasn't enough. Despite all the noise, each of the 4 modes seem to be progressing well. So much so, that this quarter's report includes 11 additional cities and 4 new countries to give you a clearer picture of what's happening across Europe.
We are entering a fascinating time for the industry: operators are looking to consolidate their current (profitable) markets, and cut costs wherever possible. Cities, on the other hand, are coming round to the idea that these services are essential to reduce the use of private cars, but remain bullish on health and safety.

Whilst 'profitability' has been on everyone's lips for over 18 months, it's never been more of a hot topic. But make no mistake, shared mobility is here to stay
Note: No INVERS customer data was used within this report. The data collected was solely provided by fluctuo.
ridership development and growth by form factor

fleet growth and size according to city population

market and policy developments

detailed insights on shared mobility offerings in a selected city

most important industry trends and news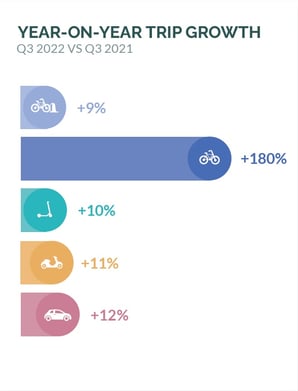 fluctuo is Europe's leading aggregator of data on shared mobility services (bikes, scooters, mopeds, cars). We combine innovative data collection methods, sophisticated algorithms, and a team of mobility experts to produce the most exhaustive accurate data possible.
The European Shared Mobility Index is one of the analytical reports fluctuo publishes.

INVERS, inventor of automated vehicle sharing, enables mobility service providers to launch, operate and scale their offerings with the first and market-leading shared mobility operating system. As the world's first shared mobility technology company, INVERS has the longest experience in the market and acts as an independent and reliable partner for operators of shared mobility solutions such as car sharing, scooter sharing, ride pooling and car rental.