Q4 2022 Edition
With data from 751 services in 100 European cities and insights on fleets and ridership!
European Shared Mobility Index
Benchmark report for
2022: A Year Of Contrasts
2022 saw the invasion of Ukraine and economic downturn, making it much harder to secure new funds. As operators have had to streamline operations and focus on profitability, 93 services were paused or stopped. Several operators were recapitalized in a hurry, others were acquired or went through mergers.
At the same time, cities are voicing their concerns over safety and the occupation of public space. In April 2023, the people of Paris will vote on whether or not to continue with shared scooter services, a decision that may have implications beyond the French capital.
Challenges lie ahead in 2023, but there is good reason to remain optimistic. The EU recently announced a 17-point plan to double the number of kilometres cycled by 2030, making cycling and riding safer, and giving shared mobility services room to grow.
Download the report to learn how the market has reacted to the challenges and how usage has changed in 2022.
Note: No INVERS customer data was used within this report. The data collected was solely provided by fluctuo.
ridership development and growth by form factor

fleet growth and size according to city population

market and policy developments

detailed insights on shared mobility offerings in a selected city

most important industry trends and news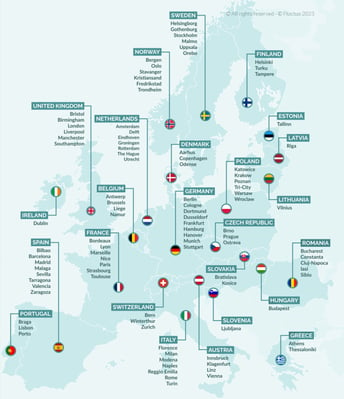 fluctuo is Europe's leading aggregator of data on shared mobility services (bikes, scooters, mopeds, cars). We combine innovative data collection methods, sophisticated algorithms, and a team of mobility experts to produce the most exhaustive accurate data possible.
The European Shared Mobility Index is one of the analytical reports fluctuo publishes.

INVERS, inventor of automated vehicle sharing, enables mobility service providers to launch, operate and scale their offerings with the first and market-leading shared mobility operating system. As the world's first shared mobility technology company, INVERS has the longest experience in the market and acts as an independent and reliable partner for operators of shared mobility solutions such as car sharing, scooter sharing, ride pooling and car rental.