FIRST EDITION
Your intro to the European car subscription market
INVERS Mobility Barometer:
European Car Subscription
About this report
The INVERS Mobility Barometer is a brand-new publication format. We aim to share market insights by publishing selected research results from different new mobility segments and learnings from market experts and practitioners.
We are very excited to cover the European Car Subscription Market in this first edition.
Who should read the report?
Whether you're a current operator, planning to enter the market or an urban mobility enthusiast, our report is freely available to whoever is interested.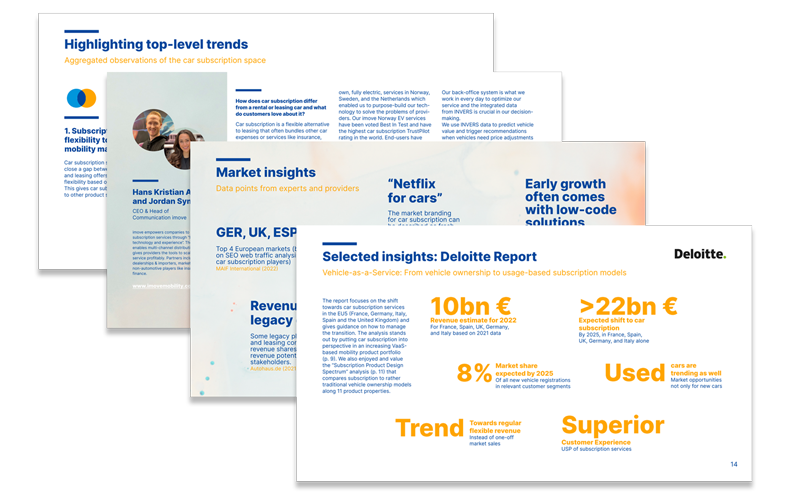 Why should you read it?
For introductory insights into the European car subscription market.
For recommendations and summaries of other useful market research.
To get first-hand insights from leading car subscription providers.
This edition helps stakeholders from the car subscription industry and beyond to quickly understand selected key market dynamics, insights and trends.
INVERS, inventor of automated vehicle sharing, enables mobility service providers to launch, operate and scale their offerings with integrated telematics and software solutions specifically designed for developers of shared mobility services. We act as an independent and reliable partner for operators of services such as car sharing, moped sharing, scooter sharing, ride pooling as well as car rental and subscription with the vision to make the use of shared vehicles more convenient and affordable than ownership. Customers include Share Now, Clevershuttle, Miles, Getaround, Flinkster, TIER, imove, CARIFY, Bounce and Emmy. The company was founded in 1993 and has locations in Siegen, Cologne and Vancouver. The development takes place entirely in Germany.